Hello!
​
My name is Penny and ​I am a dog unlike any other. I have a severe overbite and a deformed front paw (a.k.a. "the
stump"). With my amazing spirit, I have overcome being abandoned and am even considering being a Therapy Dog like my sister, Adriel.



Priceless Penny

chronicles my difficult journey from being a stray in California to my search for a loving forever home.
I currently live in Freeburg, Illinois with my mom and dad (Lauren and Matt). I also have wonderful fur siblings: Theo, Adriel, Domino, Cole and Hope, Miracle and Olaf.

I fully support the tripawds website! They give great tips and advice for fur parents that own three-legged animals.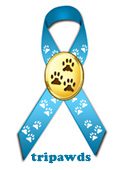 Some of my furry siblings were discovered on Petfinder.com. Find your next best friend today!
My mom is a member of AADR and helps transport rescued Dachshunds to their foster/forever homes. Find out how you can help these pooches in need.

I am so excited that Priceless Penny has been Story Monster Approved!
Photo Courtesy of Lynn Terry Photography

Photo Courtesy of Lynn Terry Photography